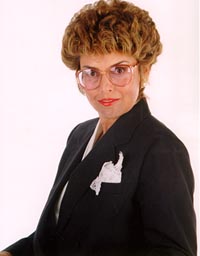 Selina Larke Herrington
Selina (se-leen-a) Larke Herrington is co-founder and vice-president of The Herrington Group, Inc., and is active in marketing, administration, designing, instructing, facilitating and consulting. She is a native of Georgia, and has traveled widely, living and studying in places as diverse as Mexico City, Mexico, and Fairbanks, Alaska.

She earned a Bachelor of Arts degree from Avila College in History, English and Education. She has worked with such international organizations as Bristol-Meyers, General Foods, and Hyatt Corporation. She has an extensive background in marketing and public relations, and is adept at instructing workshops and facilitating meetings with all levels of management.

Ms. Herrington has conducted workshops for middle and senior managers from such organizations as IBM, Citicorp, Citibank USA, Citicorp-FGLIC, Aramco, Gulf Oil, Hydril, The Houston Symphony Orchestra, Union Carbide, Unocal (USA, Thailand, Indonesia), Texas Instruments, Shell Oil, Anheuser-Busch, BHP Petroleum (Americas), and many other organizations.

In addition to marketing and instruction, she's active in needs assessment, consulting, and workshop design. She co-designed and instructs such courses as:
MEETING-POWER
TIME-POWER
FACILITATION-POWER
PRESENTATION-POWER
She also co-authored the Leader Meeting Practices Survey (L-MPS) and the Participant Meeting Practices Survey (P-MPS), both used in the MEETING-POWER workshop.
Selina is an accomplished meeting designer and facilitator, having planned and facilitated such events as a:
four-day strategic planning retreat for 40 senior managers
working/recreational trip of 10 days for 70 sales reps, sales managers and senior executives to Acapulco
three-day problem-solving retreat for 40 middle and senior managers
two-day working retreat for the 30 members of the Board of Directors of The Houston Symphony Orchestra
three-day "think tank" session for a major drug company involving twenty-five of the world's leading experts in cardiovascular research
multi-day retreat for the 30 person MIS department of a major bank, which resulted in ideas that saved $250,000 in the first year alone
Whether consulting, designing, facilitating or instructing she's at ease with workers and managers at all levels. She has a unique ability to draw people to her, put them at ease, and to communicate with them at a very direct, personal level.
She has lived in places as diverse as Fairbanks, Mexico City, and Atlanta. Her travel interests have taken her throughout Canada, the US, Mexico, the Caribbean, Hawaii, Thailand, Singapore, Indonesia, Vietnam, Guam, New Zealand and Australia. She now lives in Las Vegas, Nevada, accompanied by her husband and business partner Dean, and their Official Office Kitty (OOK), Sinja.
When not working, Selina enjoys animals (especially cats and meerkats), reading, interior decorating, flower arranging, traveling, driving the cart and giving advice to Dean as he golfs, and handling the navigation chores when she and Dean go flying together.

---
The Herrington Group, Inc.
(Voice) 702-492-6962
(Fax) 702-492-6963
(Email) Herringtons@theherringtongroup.com